Powers Series For PlayStation Gets Comic-Con Trailer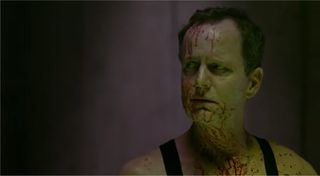 Announced during E3 2014, it looks like Sony is nearly ready to start streaming one of its first original series for PlayStation consoles, Powers. Based on the hit comic series by the same name, anyone who was worried that the live action adaptation would not live up to the book's mature rating can rest easy, as the recently revealed first trailer shows off plenty of sex, violence and potty mouths aplenty.
One of Sony's big messages during E3 2014 was that the gaming division would continue to evolve, focusing on content outside of games. We saw the start of this shift in the previous generation, with consoles introducing loads of streaming options, web browsers, music players and the like in order to turn consoles into something more akin to an entertainment hub.
While both Microsoft and Sony seemed to be investing time and money into original content back in June, Microsoft recently pulled the plug on its studio efforts, ditching planned projects in order to funnel money back into gaming. The Halo series is still coming but, otherwise, that's it.
Sony, however, is still moving full steam ahead on the non-gaming content, releasing the first trailer for the upcoming original series, Powers on the PlayStation Blog. And, as promised, the show will be included free of charge for anyone who has an active PlayStation Plus account.
For those unfamiliar with the comic, Powers takes place in a world where super-powered humans are a reality. One man loses his gifts, though, and joins a special branch of law enforcement that deals specifically with crimes related to powered individuals. He's a loose cannon, though, so he gets partnered up with an eager young agent who wants to turn him into a mentor, all while doing her best to keep him under control.
According to Executive Producer Brian Michael Bendis (he's also the co-creator of the comic), Powers is still being filmed in Atlanta but, as you can see from the above trailer, it looks like things are rolling along quite nicely.
Eddie Izzard (Hannibal) actually walked folks through a Powers panel at this weekend's New York Comic Con, giving folks some insight into his super-villain character, Wolfe.
Bendis said he's excited to hear what folks think of the first trailer, and he's looking forward to sharing even more with the PlayStation community.
"I know many of you are eagerly awaiting the show and have been all over social media telling us as much...thank you from the bottom of my heart," he said. "I hope you like what you see—Just note that what we're showing is only a teeny tiny taste of what we have coming."
Look for Powers to arrive on PlayStation this winter.
Your Daily Blend of Entertainment News
Staff Writer for CinemaBlend.