Project CARS Will Add Furious 7 Car For Free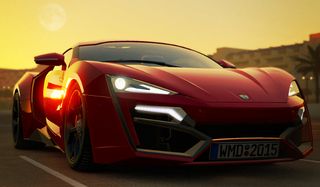 Project CARS developer Slightly Mad Studios announced today that they'll be giving players free vehicles after launch. The first of these free vehicles should make Fast & Furious fans very happy.
"The Lykan Hypersport is one of the most exclusive and expensive cars ever to be made with additional options such as embeddable diamonds, emeralds, and sapphires being available," Slightly Mad explains on the Project CARS website. "It is also the first supercar to be produced in the Middle East and is the star of a breathtaking set-piece in the upcoming Furious 7 film..."
"Capable of reaching 62mph in just 2.8 seconds, the Lykan Hypersport from W Motors has both impressive power producing 740 bhp with a top speed of 245mph whilst also showcasing breathtaking styling and futuristic technology such as a holographic mid-air dashboard."
This game will likely be the only time you'll get to drive one of these cars. The vehicle costs a cool $3.4 million. What's more, only seven of them will be produced total.
The free cars, delivered monthly, are meant to reward players for enduring the Project CARS's multiple delays. It might have been the first game to be delayed twice in a single month.
"We are immensely pleased to have this awesome machine in the game and to give fans the chance to get behind the wheel of a truly amazing vehicle," said Project CARS creative director Andy Tudor. "The Lykan Hypersport represents the first of a series of free cars we'll be giving away every month as a thank you to our fans for being so patient for the launch of the game. We'll have more info on the full schedule of further content for Project CARS soon but we hope that this is a great sneak peek of just one way in which Project CARS is going to expand in the future."
You can see a few screenshots of the Lykan Hypersport in the gallery below. Alternately, you can check out the vehicle in Furious 7 when the film hits theaters on Friday. Project CARS, meanwhile, is expected to hit PS4, Xbox One and PC sometime in the middle of May.
Image 1 of 3
Your Daily Blend of Entertainment News
Staff Writer at CinemaBlend.
Your Daily Blend of Entertainment News
Thank you for signing up to CinemaBlend. You will receive a verification email shortly.
There was a problem. Please refresh the page and try again.