New Fast & Furious 7 Trailer Offers Up Boobs, Cars And Badasses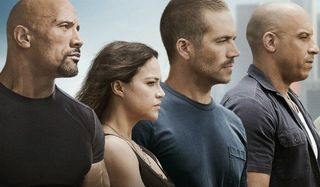 With the new Fast and Furious 7 trailer comes…well, pretty much what you'd expect: sheer awesomeness. Adrenaline-pumping car races, lots and lots of scantily clad babes and some pretty epic fights. In other words, everything guys dream of all-in-one.
The brand-new footage, which was released by Universal's international division, kicks off with a conversation between Michelle Rodriguez and Vin Diesel, reminding us once again that Letty has no memory of her life with Dom or the crew. But if there's one thing that Dom values more than anything it's family. So you know he's going to do everything and anything to get her back on his team. After all, they invented this high-octane race!
Unfortunately there's one teensy factor that's been thrown in the mix to complicate matters, and that's the brother of Owen Shaw. Remember him? He's the guy played by Luke Evans who met his end in Fast and Furious 6. Now Ian (Jason Statham) is out for some good old-fashioned revenge, which, by the looks of the trailer, starts when he blows up the house of Brian (Paul Walker) and Mia (Jordana Brewster).
Another great moment coming up that we glimpse in the Fast and Furious 7 trailer is the impending fight between Rodriguez and MMA fighter Ronda Rousey. One of the best scenes in Furious 6 was the fight between Letty and Gina Carano's Riley. It was one of the most intense and action-packed moments from any movie in 2013. So we have some pretty high hopes for this next run-in with the ladies.
Except instead of actual active gear, Rousey and Rodriguez are fulfilling every teenage boy's prepubescent dreams by kicking each other's asses in dresses with slits worthy of Angelina Jolie. In addition to Rousey, we also have a ton of new talent joining the team, including Kurt Russell, Guardians of the Galaxy star Djimon Hounsou, Game of Thrones star Nathalie Emmanuel, and the ever so "Fancy" Iggy Azalea.
While we're pumped for everything coming our way in Fast and Furious 7, which hits theaters on April 3, every new look is a bittersweet reminder of Walker. The actor had filmed most of his scenes for the sequel when he tragically died in a car crash, halting production and pushing the film's release into 2015. The director and producers promise to give this man an appropriate sendoff, and his brothers have stepped in to help film his remaining scenes to ensure that this happens.
Your Daily Blend of Entertainment News