Project CARS: The Art Of Racing Trailer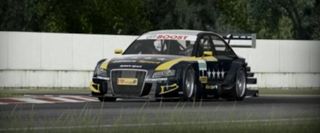 Oh man, if you want an absolutely gorgeous game to gawk at you don't have to look any further than Slightly Mad Studios' upcoming Project C.A.R.S.. It's not really on the media circuit radar because it's mostly being designed by the community, but that's one of the reasons why it looks and is presented as a true racing sim and a game where gamers can truly fulfill their need for speed.
A new trailer for Project C.A.R.S. has surfaced featuring a few slow-motioned caps of the cars making passes and turns where gamers get to see the real inner workings of a racing machine's top-gear engineering. The slow-mo doesn't last for long, though, and soon after gamers are treated to some fast and furious rubber-burning action.
I think I'm in love.
I'll be honest, though, Slightly Mad Studios did not impress me much with their work on the Need for Speed: Shift games. I felt like there was a battle for the game to be an arcade racer under the guise of a simulator, aimed at chipping away at the Forza and Gran Turismo crowd. I was not impressed with the shoddy turning mechanics and odd weight distribution of the vehicles during collisions, bumps and crashes. The presentation was nice, though.
I can also see with Project C.A.R.S. that this is no arcade racer in simulation clothing...this is the real deal. The vehicle physics look perfect, the turning looks spot on and it looks as if any wrong turn, mishap of the brake or too much acceleration and your car will be eating more guardrail than a drunk celebrity cruising the hills of Hollywood after a night out on the town.
If you'd like to contribute to the development of Project C.A.R.S. or learn more about the game be sure to pay a visit to the game's Official Website. Project C.A.R.S. is scheduled for release on PC and consoles in late 2012.
Your Daily Blend of Entertainment News
Staff Writer at CinemaBlend.
Your Daily Blend of Entertainment News
Thank you for signing up to CinemaBlend. You will receive a verification email shortly.
There was a problem. Please refresh the page and try again.