Project CARS Community Screenshots Break The Barriers Of Realism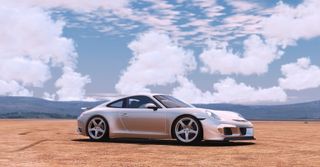 Boy oh boy does Project CARS look good. No, that's an understatement, this game looks realistic. On the highest settings you can easily see how the visual fidelity of the game sometimes reaches "I can't believe this is a video game" realism levels. Don't let these words of praise dictate your expectations, though, just take a look at the game in the newly released community screenshots.
Zero Dark Gaming managed to get hold of a whole, whole, whole bunch of new community screenshots for Project CARS, which is a very interesting game insofar that developer Slightly Mad Studios has actually crowd-funded this AAA quality looking game, and the crazy part about it is that this game looks better than every other $100 million dollar game out there, proving you don't need $100 million to make gamers pee their pants from the pungent prettiness of a next-generation game.
Given the looks of Project CARS and the continued advancement of the game's graphics in just about every public release, I'm almost convinced that maybe Slightly Mad Studios would benefit more from simply killing the game for the Xbox 360 and PS3 and just focusing on a release for PC, Wii U, PS4 and whatever the heck Microsoft's next-gen console will be called.
Anyway, you can check out the radically pristine, and evocatively beautiful screenshots captured of Project CARS from the community, below. Take note, these are shots from the actual game and not press images, so what you're seeing here is how people are actually playing the game.
Need to learn more about this next-gen racing simulator? Be sure to visit the Official Website.
Image 1 of 34
Image 2 of 34
Image 3 of 34
Image 4 of 34
Image 5 of 34
Image 6 of 34
Image 7 of 34
Image 8 of 34
Image 9 of 34
Image 10 of 34
Image 11 of 34
Image 12 of 34
Image 13 of 34
Image 14 of 34
Image 15 of 34
Image 16 of 34
Image 17 of 34
Image 18 of 34
Image 19 of 34
Image 20 of 34
Image 21 of 34
Image 22 of 34
Image 23 of 34
Image 24 of 34
Image 25 of 34
Image 26 of 34
Image 27 of 34
Image 28 of 34
Image 29 of 34
Image 30 of 34
Image 31 of 34
Image 32 of 34
Image 33 of 34
Image 34 of 34
Staff Writer at CinemaBlend.
Your Daily Blend of Entertainment News
Thank you for signing up to CinemaBlend. You will receive a verification email shortly.
There was a problem. Please refresh the page and try again.