The Punisher: No Mercy And Punishment Trailer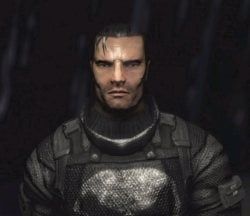 Xbox 360 gamers must be furious about the exclusive new Punisher game for the PS3. Well, to further fuel the flames and stretch the fumes, Zen Studios released a new trailer that contains plenty of action, shooting and punishment.
Running on the Unreal Engine and being made exclusively for the PlayStation Networ, The Punisher: No Mercy is a gun-and-gore multiplayer fest that looks to do nothing more than satisfy any hardcore gamer's urge to pump virtual lead into something.
The trailer actually comes on the heels of the recent news regarding the official release date. So now gamers have an idea of just how long they'll have to wait after taking a gander at the trailer below.
The Punisher: No Mercy will be exclusively available on the PS3 for $9.99 (and that's a darn good price for a game that looks like it's worth $24.99). You can view the trailer below or visit the Official Website for more info. For more gaming news, info, insight and updates, be sure to stay tuned in with Blend Games.
Your Daily Blend of Entertainment News
Staff Writer at CinemaBlend.