Radical Entertainment Goes Bust, Prototype Franchise Is No More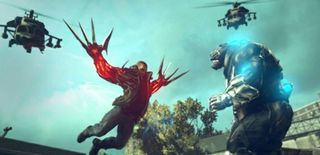 The developers of open-world action games Prototype and Prototype 2, Radical Entertainment, are ceasing the development of their own titles from here on out. The studio's staff has been drastically reduced and they will now only work in support roles on other established Activision titles.
According to the LA Times Activision originally set out to sell off Radical Entertainment because Prototype 2, the number one selling game from April according to the NPD [via VG 24/7], did not move enough copies to be considered a massive success. In result, Activision came to the following conclusion...
Although, they have said something...Radical Entertainment's senior audio designer Rob Bridgett took to Twitter to discuss the matter, with IGN picking up the following quote from Mr. Bridgett, saying...
It boggles my mind how the landscape of the industry has changed so much. Indie devs are rolling in cash from titles that move 100,000 copies in a few weeks but larger studios are shutting down after moving 1 through 2 million copies in a month. Is that not insane or what?
As a rough estimate the retail numbers for the Xbox 360 and PS3, according to an approximation from VG Chartz, puts Prototype 2 just shy of a million copies. Curious what the numbers are for the PC version? Well, we can't say because they won't be out for a while...this is because the PC version isn't even out yet. There is some good news out of this, though, and it's that Prototype 2 will be landing on PC beginning July 24th, according to the official Radical Entertainment Facebook Page.
Most gamers have recognized that it's not even possible to blame used game sales this time around because the game wasn't even out long enough for used game sales to cannibalize the retail sales for Prototype 2. More than anything it just kind of looks like Activision was looking to cut costs and re-purpose another studio either towards Spyro or Call of Duty, which is what every other studio under the publishing giant has already done, including Infinity Ward, Treyarch, Neversoft, Raven and Sledgehammer Games.
Your Daily Blend of Entertainment News
Staff Writer at CinemaBlend.