Ratchet And Clank's History Revealed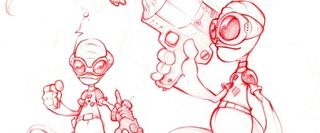 Ratchet and Clank is turning 10 and, to celebrate, developer Insomniac Games are doing a couple of things. First, they've put together the Ratchet and Clank Collection for the PlayStation 3, offering three PS2 R&C games at a discounted price. Second, they've put together a massive blog highlighting the evolution of the franchise, complete with lots and lots of concept art.
Priced at 30 bucks and releasing next Tuesday, Aug. 28, the Ratchet and Clank Collection combines the original Ratchet and Clank, Going Commando, and Up Your Arsenal in a single, tidy package. As is the case with most of these collections, you can expect HD graphics, full trophy support, 3D and even 12-player online support for Up Your Arsenal's multiplayer component.
If all of that Ratchet and Clank goodness has you chomping at the bit to play the games, then you might want to kill some time between now and next Tuesday getting familiar with the history of the franchise. To that end, Insomniac Games has put together a pretty stellar blog post highlighting exactly that. Featuring loads of backstory and concept art, you can find out how Ratchet and Clank grew from concept to reality, eventually earning their spot as two of PlayStation's most recognizable mascots.
Staff Writer for CinemaBlend.
Your Daily Blend of Entertainment News
Thank you for signing up to CinemaBlend. You will receive a verification email shortly.
There was a problem. Please refresh the page and try again.