Red Dead Redemption Not Coming To PC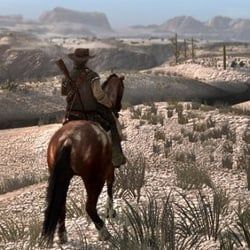 Red Dead Redemption hit the PS3 and Xbox 360 last month to rave reviews. PC gamers have been hoping it would eventually hit their platform as well but it's not looking very likely.
"As of now, there are no current plans to bring Red Dead Redemption to the PC platform," said Rockstar on their official blog. "If that should change, we will let you know."
Grand Theft Auto IV was released for the PS3 and Xbox 360 in April 2008 and hit the PC that December. This and other PC ports of Rockstar games were handled by the Toronto studio. Perhaps Rockstar Toronto is tied up with some other project?
Staff Writer at CinemaBlend.
Your Daily Blend of Entertainment News
Thank you for signing up to CinemaBlend. You will receive a verification email shortly.
There was a problem. Please refresh the page and try again.