Resident Evil 6 To Offer Free Retro Skins For Online Play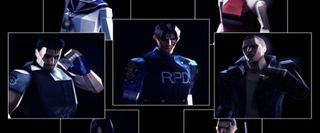 Capcom is about to release a blast from the past in the form of retro costumes for Resident Evil 6 multiplayer. And when I say "retro," I don't mean that the developers are just putting everyone in their old outfits and calling it good. I mean they're about to start passing out skins for the game's various characters that make them look like HD versions of blocky, PlayStation X era models.
And how do they look? In one word: Awesome. Capcom has taken a lot of flak over the years for everything from on-disc DLC to charging some pretty high prices for some pretty standard additional content. This time around, though, they're giving away the skins for taking part in various activities, and it's pretty dang hard to get up in arms about something like that.
Announced through Capcom's GregaMan blog, these costumes will be released over time, giving players a good reason to keep coming back to Resident Evil 6's online offerings again and again.
"This is just about the most fan servicey thing I've seen all week," said GregaMan. "As you can see, the costumes take inspiration from the classic RE games of yore, with blocky, angular designs and traditional outfits. RPD? Man, I thought that place shut down!"
If this is only the most fan servicey thing he's seen in a "week," I have to wonder what types of things he usually sees in a typical week. This might be the most fan service I've seen all year.
So now to the big question: How do you get these skins? The first opportunity will be next weekend, Dec. 28, when ResidentEvil.net kicks off its first "Zombie Mayhem" event. If all online players kill a collective 15 million zombies, then everyone will be eligible to download one of the seven retro characters. No word yet on which skin will be the first to be given away. And that above link is where you'll want to keep your browser tuned, as Capcom will continue to make announcements on future events to make the remaining retro cast available.
Your Daily Blend of Entertainment News
Staff Writer for CinemaBlend.