Resident Evil HD Mod Brings Back The Terrible PSOne Voice Acting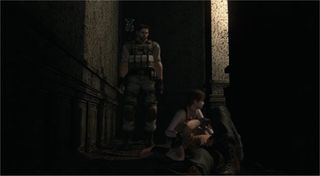 Capcom's Resident Evil series has always been known for cheesy dialogue and over-the-top exchanges that only a B-movie would be proud to have its actors say, but the original 1996 release of Resident Evil really took the cake. Gamers, in their never-ending quest to keep the old culture alive, have re-embedded the original voice-overs from the 1996 PSX and PC release of Resident Evil into Capcom's latest Resident Evil HD remaster.
A.V. Club caught a recent story from PC Gamer where it's being reported that a modder has taken time out of the day (or week... or months) to completely re-dub the voice actors in Capcom's most recent Resident Evil HD. The game was recently released for home consoles and PC, and I imagine the modder may have been quickly trying to rip the voices out of the original game in order to place them in the newest game. I don't even really want to think about the logistical management of taking on that tasks; I would get fatigued cycling out 9mm pistol sounds in Jagged Alliance for more realistic sounds.
Anyway, as noted by A.V. Club...
A room-by-room basis makes sense. I'm betting the modders are wishing that the whole thing could have been as easy as swapping the file names for the audio files and calling it a day, you know like with replacing models or textures in some games. Just extract the data, rename the new file to the old file and delete the old file. Bam. Easy modding 101.
Anyway, speaking of those videos, you can see the re-dub in action with the clip below.
Oh man... oh man... those voices...
Reading the quoted text just doesn't capture the amount of cheese with which that line was delivered from the original Resident Evil.
This re-dubbing process will likely take a while before it's complete. Other mods for Resident Evil HD are a bit more accessible... liking removing the game's doors.
If you're interested in picking up a copy of Resident Evil HD you can do so for the Xbox One, Xbox 360, PS3, PS4 or PC. Sadly, no Wii U release.
Capcom already has Resident Evil: Revelations 2 inbound soon for home consoles and PC if you weren't interested in a remastered edition of the 2002 GameCube remake. I'm almost sure that with the big success of Resident Evil HD we could be seeing a remastered version of Resident Evil 2 down the line.
Your Daily Blend of Entertainment News
Staff Writer at CinemaBlend.