Resident Evil Operation Raccoon City Now Available For PC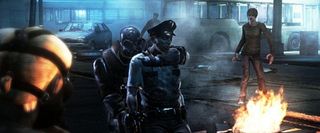 Capcom sent out word today that the third-person, squad-based shooter, Resident Evil Operation Raccoon City is now available for the PC platform. The game managed to move more than 2 million copies for home consoles, despite poor review scores, and now Capcom is unloading the beast onto PC gamers.
As mentioned in the press release...
What, free DLC for PC gamers? Did we step into some sort of Twilight Zone episode where everything is the opposite? Well, no, because this DLC was already free for Xbox 360 and PS3 gamers, Capcom is just extending that courtesy to the PC audience at no extra charge.
The game itself is basically a multiplayer, squad-based shooting game for people who wanted an even more action-oriented experience that Capcom originally introduced in Resident Evil 5. Players will be able to play as the Umbrella Special Forces crew as they battle against the U.S. Special Forces and go head-to-head, each with their own special classes and abilities, as well as having to deal with zombies and the Tyrant.
The team-based multiplayer further extends the game's replayability in place of the horror-survival-RPG mechanics of the game's in the past. You can look for Resident Evil Operation Raccoon City right now for PC for $49.99. For more info on the game feel free to visit the Official Website.
Staff Writer at CinemaBlend.