Ridge Racer Unbounded Trailer Previews Mayhem And Destruction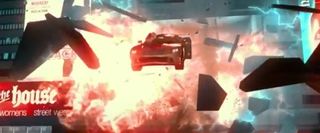 The latest Ridge Racer Unbounded trailer is all about the racing. There's no talking, no developers, no text, just pure unadulterated mayhem and racing destruction that only BugBear Entertainment could provide.
Graduating from FlatOut to Ridge Racer may have been the best thing to happen for BugBear because the newest game from Namco Bandai looks really intense, sort of like Blur meets Burnout. The game is definitely a far cry from the Ridge Racer roots. Taking their experience with advanced physics and damage models from FlatOut, you can tell BugBear has poured a lot into making Ridge Racer a white-knuckle racing experience for core gamers. Check it out below.
Fans of the old arcade racer will notice that gone is the middle-ground approach that once had Ridge Racer nestled into the niche of being less simulation-oriented than Gran Turismo but not quite as hardcore as Burnout. The game now seems to be aimed at directly competing with the Need for Speed: The Run and Burnout Paradise in hopes of capturing the hardcore action-racing fan as opposed to just the arcade racing crowd.
If you like what you see you can learn more about the game or place your pre-order for Ridge Racer Unbounded by paying a visit to the Official Website. The game is set for release at the end of this month for the Xbox 360, PC and PS3.
Staff Writer at CinemaBlend.
Your Daily Blend of Entertainment News
Thank you for signing up to CinemaBlend. You will receive a verification email shortly.
There was a problem. Please refresh the page and try again.