Rise Of The Tomb Raider Won't Have Multiplayer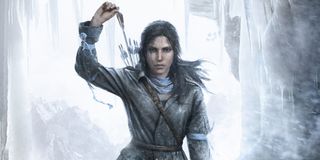 Rise of the Tomb Raider will differ from the 2013 Tomb Raider reboot in one significant way: it won't have competitive multiplayer.
The latest issue of Official Xbox Magazine (via AGB) has a preview of Rise of the Tomb Raider that mentions "multiplayer was cut from the experience." This, the preview says, puts more pressure on the development team at Crystal Dynamics "to make the core campaign as entertaining as possible."
The 2013 reboot of Tomb Raider's four multiplayer modes revolved around either killing everyone, capturing points or transporting medical supplies. By playing these modes, players earned experience levels and gained access to new characters, weapons and perks. It wasn't terrible but it didn't feel like it fit Tomb Raider at all. Here's what I said in my review of the reboot:
Two teams of heavily-armed soldiers shooting each other just isn't true to the series. Plus, you can get that kind of experience in so many other games on the market. In my mind, a proper Tomb Raider multiplayer is closer to Lara Croft and the Guardian of Light and Lara Croft and the Temple of Osiris: a cooperative adventure through a tomb filled with booby traps and enemies. Imagine players working together to traverse obstacles and fight hordes of enemies.
Making that kind of online mode with Rise of the Tomb Raider visuals wouldn't be easy, though. I can see why Crystal Dynamics would rather just put all their energy into a single-player campaign. That's really the main reason that people play Tomb Raider: to become Lara and overcome incredible odds on their own. The game's going to live or die based on the quality of the campaign.
In Rise of the Tomb Raider, Lara Croft heads to Siberia to find the ancient city of Kitezh. The city, founded in the 13th century, is believed to contain the secret to immortality. Lara will brave the elements, booby traps and dangerous animals to find Kitezh. She'll also have to contend with a shadowy organization called Trinity that also has an interest in the city. The game will debut on Xbox 360 and Xbox One on November 10th.
Staff Writer at CinemaBlend.
Your Daily Blend of Entertainment News
Thank you for signing up to CinemaBlend. You will receive a verification email shortly.
There was a problem. Please refresh the page and try again.