Rumor: Battlefield 3 System Requirements Aren't As Bad As You Think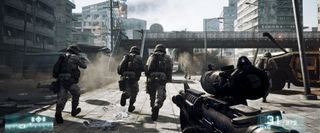 Apparently GameStop had a listing for the PC version of Battlefield 3 before they were asked to remove the info due to the final system requirements being subject to change. Nevertheless, a loyal gamer managed to snag a peek at what the final system requirements might look like for Battlefield 3 and it isn't all that bad.
According to a post on the Video Game Pride forums [via GameGrep] the system requirements are as follows for the PC version of Battlefield 3…
Digital version seems to be missing 5 gigabyte but otherwise the requirements – as seen here – aren't all too bad. Anyone with dual ATI 5770s or higher should be able to still run the game on the recommended settings. And it appears anyone with a dual DX11 Nvidia card lower than a 460 is already good to go, too.
Now, this is a rumor of course because there's a reason why the GameStop posting for Battlefield 3's system requirements were de-listed. Either DICE is going to find a way to bring those settings down a notch or, to the chagrine of most gamers, raise those settings by a notch or two.
You can check out the Official GameStop Page for Battlefield 3 and keep an eye on it for any updates involving system requirements. In the meantime, we'll keep an eye on our inboxes for EA and DICE to release the official system requirements.
Your Daily Blend of Entertainment News
Staff Writer at CinemaBlend.