SEAL Team 6 Punished For Leaking Secrets In MOH: Warfighter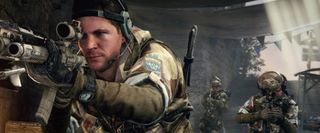 Seven members of SEAL Team 6, the popular Navy SEALS who became famous for killing Osama Bin Laden, have been reprimanded for revealing key secrets to Electronic Arts in the recent first-person shooter, Medal of Honor: Warfighter.
The CBS Report details how Team 6 worked with EA over the course of two days, doing consultant work for Medal of Honor: Warfighter. Apparently some aspect of their "consulting" must have actually appeared in the game because SEAL Team's superiors were not pleased, relegating them to two months of half-pay and a letter of reprimand.
According to MP1st, EA won't be recalling the game or making any changes in light of the SEALs coming under fire, stating that...
Well at least EA is sticking to their guns, the only problem is that some terrorist in some far off part of the world might be using Warfighter to uncover classified information about American military operations and gear. Oh boy, I sure hope they don't start putting bombs in our wrist watches or something.
What's more is that Polygon reached out to the Department of Defense and received the following response...
Ouch.
Well I guess Seal Team 6 knows better than to leak classified info now. Even the guys responsible for killing Osama Bin Laden aren't above a little Government spanking.
Staff Writer at CinemaBlend.
Your Daily Blend of Entertainment News
Thank you for signing up to CinemaBlend. You will receive a verification email shortly.
There was a problem. Please refresh the page and try again.