SSX Massive World Video Series Concludes With Africa, Rockies, Alps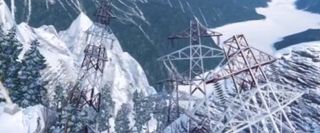 The final video series in the Massive World development diary for the upcoming SSX takes gamers around the world to various legendary peaks, from Africa's Kilimanjaro to the Swiss Alps and all the deadly descents in between.
I know a lot of publishers have been receiving flak from the general gaming community about sequels, reboots and redoes for many video game franchises. However, I think that the SSX reboot seems like it's at least retaining a lot of the fun factors from the original games. The over-the-top gameplay is at least there and when you see some of the maps in the video below you'll be hard pressed to hold any grudges against EA Sports and their vision for the game.
I'm a little stumped on which of those tracks look the most fun. The whole pitch-black cave-run seems like it would really give your thumbs a real workout, where-as the Rockies has some really stunning looking moments, such as the slalom through the trees.
The game is scheduled for release early in 2012 for the Xbox 360 and PS3. You can pre-order a copy of SSX right now for some special bonuses. To learn more about the game feel free to visit the Official Website.
Staff Writer at CinemaBlend.
Your Daily Blend of Entertainment News
Thank you for signing up to CinemaBlend. You will receive a verification email shortly.
There was a problem. Please refresh the page and try again.