Saints Row 4 Absorbs Enter The Dominatrix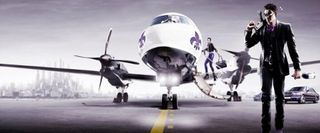 Saints Row: Enter The Dominatrix, the standalone expansion to Saints Row: The Third, is no more. THQ has decided to use that content as part of a much larger project instead.
Enter the Dominatrix was to introduce an all-new campaign after the events of SR3. An alien warlord named Zinyak plans to take over the Earth but is concerned that the Third Street Saints could pose a problem. He decides to trap the leader of the Saints in the Dominatrix, a virtual version of Steelport. Like Neo in the Matrix, our hero will learn to bend the rules of this virtual world to his advantage and become, essentially, a super hero within it.
"When I looked at the Enter The Dominatrix expansion in production at Volition, I was blown away by the ideas and desire to expand the fiction of the franchise," THQ president Jason Rubin said. "I asked the team what it could achieve given more time, more resources, and a broader scope for the project. We all agreed we wanted to play that game."
Dominatrix will now, instead, be part of a "full-fledged" and "vastly expanded" sequel. No title for this sequel was announced. However, Saints Row 4 seems like a good working title for the moment.
THQ has been in a rough patch as of late but Saints Row has been a bright spot for them. SR3 shipped 3.8 million copies in its first couple months on store shelves. It makes sense, then, that they would do everything they could to deliver more Saints to players. Hopefully there's no drop-off in quality as a result of this push.
Saints Row 4 will be arriving sometime in 2013. While this may be a good move for THQ in the long-term, it'll hurt them a bit in the short term. Their estimated sales for this year will be $20 million lower as a result of Dominatrix not shipping this fall.
Staff Writer at CinemaBlend.