Save $40 On Ghost Recon: Future Soldier With Gunnar Optiks Purchase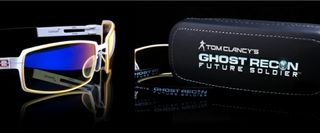 If you're in need of some high-end eyewear and you also want to buy Ubisoft's upcoming third-person military shooter, Ghost Recon: Future Soldier, then you might like Gunnar's new promotion which enables you to save up to $40 off the game when you purchase some Optiks with the game.
If you buy any of the Gunnar Optiks from the MLG Phantom Onyx, Vayper Onyx, or RPG Gunmetal styles along with Ghost Recon: Future Soldier, you will instantly save $40.
Jennifer Michelsen, co-founder and Chief Marketing Officer at Gunnar Optiks mentioned in the press release that...
Gunnar Optiks are a high-end kind of eyewear for gaming, casual-wear and sportswear. They certainly aren't the cheapest kind of eyewear around but you'll definitely look awesome wearing them. That's not to mention that buying the glasses alongside Future Soldier knocks off nearly 65% of the total retail price of the game. So if you were planning on buying a new pair of rocking glasses and you were also planning on getting Ghost Recon: Future Soldier, just keep that in mind the next time you head to a retailer who carries the Gunnar Optiks.
The game itself is set for release next week on the 22nd, and the deal to pick up a copy of the game alongside the Gunnar gear will only last up until June 5th, so it's something to consider if you plan on getting the game at retail.
You can learn more about the Gunnar Optiks by paying a visit to the Official Website or you can look for Ghost Recon: Future Soldier to land on retail shelves for home consoles next Tuesday.
Staff Writer at CinemaBlend.
Your Daily Blend of Entertainment News
Thank you for signing up to CinemaBlend. You will receive a verification email shortly.
There was a problem. Please refresh the page and try again.