New Screenshots For Velvet Assassin And X-Blades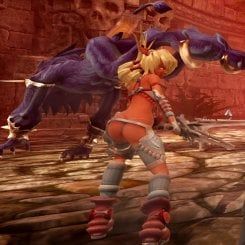 Can you feel the fanboy love today? Can you feel it? I know I can. A new multiplatform title coming out for the 360 and PS3 was enough to bait in the flame wars…yet it never happened. Now, a PC and 360 exclusive is sharing news with another multiplatform title...yep, we're turning battlegrounds into happy fairs.
Velvet Assassin may not be coming to the PlayStation 3, but it doesn't mean PS3 fans can't be happy and just relish the goodness of the game in the screenshots below. And at the same time, PS3 fans can take refuge in knowing that at least they'll be receiving the mediocre fan-service game, X-Blades. Blades and butt-cleavage…that's enough to keep you from complaining, right?
Anyway, the multiplatform title, X-Blades is due out this week. Velvet Assassin will be landing on store shelves later this year for the PC and Xbox 360. You can visit SouthPeak Interactive's Website for more information about both games. The screenshots are below, so let your eyes roam freely over them. For more news and info be sure to stay tuned in with Blend Games.
Image 1 of 8
Image 2 of 8
Image 3 of 8
Image 4 of 8
Image 5 of 8
Image 6 of 8
Image 7 of 8
Image 8 of 8
Staff Writer at CinemaBlend.