See What's Coming To PlayStation Plus In August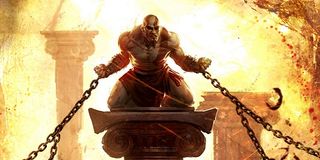 August is just around the corner and, like some overachieving Santa Claus, Sony Kringle has arrived with another bulging bag full of goodies for all the good PlayStation Plus boys and girls. It's time to dig into this month's new additions to the Instant Game Collection.
If you own a PlayStation console and you're not a member of PlayStation Plus at this point, I think it's fair to say that you're living life wrong. Along with cloud storage for your save files, weekly discounts and online gaming for the PlayStation 4, members have access to a rotating collection of games that include at least two titles for each of Sony's consoles; the PS3, PS4 and Vita. Sure, you lose access to those games if your subscription runs out but, even then, you're looking at one of the best game rental services available.
And speaking of games, this month's Plus lineup includes six titles that will have you raiding tombs, avoiding giant spiders, creating musical worlds and punching gods in the face. These games will become available next Tuesday, Aug. 4, and will be available for download throughout the rest of the month.
First up, for the PlayStation 4, you've got access to Lara Croft and the Temple of Osiris and Limbo.
In Mrs. Croft's latest spinoff arcade game, up to four players sitting on the same couch or playing online can duke it out with an Egyptian god who is trying to destroy the world. This series takes a departure from classic Tomb Raider gameplay in that it's a top-down twinstick shooter. It's a heck of a lot of fun, though, and offers loads of puzzles to solve and enemies to steamroll with a group of friends.
Limbo probably doesn't need an introduction at this point. A short but sweet monochromatic adventure game, you'll guide a vacant-eyed little boy through a realm of nightmares to unravel a plot that leaves quite a bit of its meaning up to the player.
While those two games are only up for grabs on the PS4 this August, two cross-play games will also be available for all three consoles, including Sound Shapes and Stealth Inc. 2: A Game of Clones.
Sound Shapes is a rather brilliant platforming game that utilizes the environment and player progress to add layers onto its fantastic soundtrack. Even better is the fact that the game comes with a robust set of creation tools, making it possible to craft your own worlds/tunes and download the creations of others.
As for Stealth Inc. 2, get ready to head back into a collection of high-security facilities on a quest to sneak past guards and deadly traps without being spotted.
Also joining the August Plus lineup is God of War Ascension for the PS3, which fills in some of the blanks for Kratos' backstory and his *ahem* ascension to power. There's also a pretty great multiplayer mode.
Finally, there's Castlestorm for the PS3 and Vita, which has you spending resources and sending out soldiers in order to topple an opposing stronghold.
Staff Writer for CinemaBlend.
Your Daily Blend of Entertainment News
Thank you for signing up to CinemaBlend. You will receive a verification email shortly.
There was a problem. Please refresh the page and try again.