Sega Re-Releasing Daytona USA For Xbox 360, PS3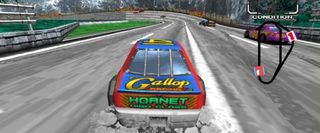 One of the most popular racing games from the mid 90s is making a return in all its classic glory for the Xbox Live Arcade and PlayStation Network. That's right, the arcade classic Daytona USA will be re-released for the Xbox 360 and PS3 later this month.
As stated in the press release…
Remember walking into the arcades and you would see four of those Daytona USA cabinets bundled up together and then that ridiculously catchy "Let's Go Away" would start playing with Takenobu Mitsuyoshi synth music and "Daaaaay-tone-aaaaaaa" vocals blaring over the speakers? Those were good times.
Anyway, the game has been overhauled with enhanced HD visuals for today's generation, new controller support for brand new wheel support for both the Xbox 360 and the PlayStation 3, as well as revamped multiplayer modes so you'll no longer have to worry about having split-screen only support, but instead you'll be able to take the action online and compete against friends via Xbox Live or PSN.
The game is scheduled to release on October 25th for the PlayStation Network for only $9.99 and it will debut for the Xbox Live Arcade starting October 26th for only 800 MS Points. PAL gamers need not worry because the game will become available in early November in European territories.
You can learn more about the game by paying a visit to the Official Sega Website.
Staff Writer at CinemaBlend.
Your Daily Blend of Entertainment News
Thank you for signing up to CinemaBlend. You will receive a verification email shortly.
There was a problem. Please refresh the page and try again.