Skyrim DLC Might Be Announced Next Week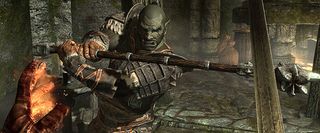 After a few weeks of teasing, Bethesda may actually announce the downloadable content for Elder Scrolls V: Skyrim soon. Bethesda's PR man Pete Hines said today that more information could be released as early as next week.
"I am working on getting a little more info out on Skyrim/DLC. Maybe next week? We'll see. Also trying to confirm Kinect release date," tweeted Hines.
Hines said at the end of March that Bethesda had big Skyrim news to share this month. After announcing Kinect support for Skyrim a couple weeks back, the company said they would reveal the first add-ons for Skyrim in the "near future." The company then released a teaser image last week that everyone assumed was from the DLC. However, it turned out to be a screen cap from a new CGI trailer for Dishonored. So yeah, we're all primed for a Skyrim DLC reveal at this point. No more "announcements of announcements," please.
Bethesda intends to release a small number of large DLC packs for Skyrim. I'm expecting expansion packs, like the Knights of the Nine and Shivering Isles DLC released for Elder Scrolls IV: Oblivion. That would explain why it's taken Bethesda so long to reveal the new content.
The only definitive thing we know about Skyrim's DLC thus far is that it will be a timed exclusive for the Xbox 360. The 360 version of the content will arrive at least a month before it hits the PS3 and PC.
Update: A gamer has uncovered some hints about the DLC's content in the latest patch.
Your Daily Blend of Entertainment News
Staff Writer at CinemaBlend.