Skyrim Hearthfire Releasing On PS3 Today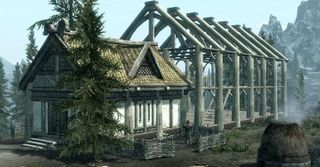 Bethesda is set to release another Elder Scrolls V: Skyrim add-on through PSN today. Hearthfire is the smallest of Skyrim's DLC but might appeal to those of you with a creative side.
The DLC allows players to purchase a plot of land in the province of Skyrim. From there, they can design their own custom estate. They'll utilize a drafting table and workbench to construct a variety of buildings from raw materials. An armory, stable, and alchemy laboratory are some of the structures that can be built.
If players feel lonely, they can bring in NPC's to inhabit the estate. A bard, carriage driver and steward can be hired to stay there. The player's spouse can move in as well, and the couple can even adopt an orphan.
This might all sound a bit boring to some of you. Rest assured that there's some action in the DLC too. Once they've built their estate, players will have to defend it from giants, kidnappers and more.
Hearthfire is priced at $5 on Xbox 360 and PC. Presumably it's the same cost on PS3. However, as Bethesda announced earlier this month, they're offering all PS3 DLC at a 50% discount for the week following their release.
This is the second Skyrim DLC pack to be released on PS3. The first, Dragonborn, arrived last week. Dawnguard will complete the set when it launches next week.
The European PSN is adding each DLC a day later than its North American counterpart. Gamers in that territory should expect Hearthfire tomorrow, then.
Your Daily Blend of Entertainment News
Staff Writer at CinemaBlend.