Sleeping Dogs Only Manages To Sell 172,000; Please Don't Kill It Square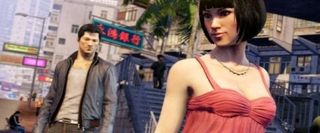 Square Enix and United Front Games latest title, Sleeping Dogs, only managed to move 172,000 units across the Xbox 360 and PS3 in August. In corporate douchebag terms, that's piss poor numbers. It's usually 1 million or GTFO in today's climate of AAA game releases. Nevertheless, there is a silver lining to this and it's in digital sales.
According to Joystiq, while Sleeping Dogs managed to come in 6th place on the NPD for August, it only moved 172,000 SKUs for the Xbox 360 and PS3. Ouch.
The top dog for August was THQ and Vigil Games' Darksiders II: Death Lives, which reportedly moved 247,000 SKUs for the home consoles. That's still kind of anorexic in terms of sales...for an AAA title, anyway. Indie devs would love to see 172,000 units moved for their games in a single month. Well, technically, 4J Studios and Mojang did move 1 million digital units with Minecraft on the Xbox 360, but we can't count them because people love original games that don't have obnoxious marketing campaigns.
Anyway, the real kicker is that there's no way to properly tell exactly what Sleeping Dogs moved in totality given that NPD doesn't track digital sales and I'll have to be honest, most of the community chatter for the game was about the PC release which was only available digitally.
The game may have moved closer to a quarter of a million units only given that according to the weekly Steam top 10 chart on Blues News between August 5th and August 26th, Sleeping Dogs managed to maintain a place on the charts and even recently it found its way back onto the charts in this past Sunday's chart. If it's a lot lower than 250,000 total then that's not good news for United Front Games or Square.
On the upside, Sleeping Dogs has only been kicking up a storm of positive word of mouth, so if Square Enix gives it some time to grow it may blossom into a beautiful lotus blossom tree with lots of kickbutt kung-fu lotus petals. Some gamers speculate it'll near the one million SKU mark heading into the holiday season. For United Front Games' sake and the continued growth of Sleeping Dogs I sure hope the game proves to be a success in the long run.
You can pick up a copy right now for the Xbox 360, PS3 or PC. You can learn more by paying a visit to the Official Sleeping Dogs Website.
Your Daily Blend of Entertainment News
Staff Writer at CinemaBlend.