Sonic Colors Debut Trailer For Wii And DS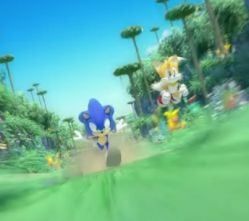 Even though the game isn't due out until the holiday season later this year, Sega has gone ahead and released a debut trailer for Sonic Colors to go alongside yesterday's announcement of the game.
For those who don't know, Sega recently announced that Sonic Colors will be arriving this year for the Nintendo DS and Wii. The game sees Sonic featuring to a fantastical amusement park world where Dr. Eggman has captured a species known as Wisps. These colorful Wisps can also be used to give Sonic unparalleled abilities only rivaled by Mario's wacky and unique power from Super Mario Galaxy.
The debut trailer is just a short cinematic teaser but those still loyal to the Sonic franchise might enjoy it. For more info on Sonic Colors be sure to visit the Official Website.
Staff Writer at CinemaBlend.