Sony Slams EA Access, Says It Isn't Good Value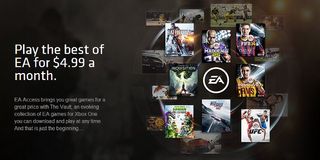 Sony isn't impressed by EA Access, the new subscriber service on Xbox One offering access to EA games. In an official statement, they said that EA Access doesn't offer good value to gamers.
"We evaluated the EA Access subscription offering and decided that it does not bring the kind of value PlayStation customers have come to expect," a Sony representative told Game Informer.
The phrasing in that sentence makes it sound like Sony was approached by EA about bringing the service to PS4. That would make sense. EA's heavily invested in both PS4 and Xbox One development. I'd think they would EA Access on both platforms. They don't have much incentive to play favorites.
EA Access is a monthly or annual subscription that gives Xbox One owners access to a "Vault" of EA games. This membership also comes with certain perks. EA Access members can buy digital titles from the publisher at a 10% discount. They'll be able to download certain new releases five days before its official launch.
"Each game is different, so each game's trial will be, too," EA said of this free trial in the service's FAQ. "In some titles you'll be able to play one of the game's modes for a limited time, while other times you can jump right into the full game. And since you'll always be playing the real game, any progress you make will carry over so you can pick up where you left off on launch day."
We only know some of the games that will be included in the "Vault" so far. The beta test gives you access to Madden NFL 25, FIFA 14, Battlefield 4 and Peggle 2. Upcoming games with early access include Madden NFL 15, NHL 15, FIFA 15, NBA LIVE 15 and Dragon Age: Inquisition.
Sony feels that asking PS4 owners to pay a subscription on top of PlayStation Plus is too much.
"PlayStation Plus memberships are up more than 200% since the launch of PlayStation 4, which shows that gamers are looking for memberships that offer a multitude of services, across various devices, for one low price," the Sony rep told GI. "We don't think asking our fans to pay an additional $5 a month for this EA-specific program represents good value to the PlayStation gamer."
I'm not convinced EA Access is a bad value right now. In certain cases, it could be a bargain. There are a lot of enjoyable single-player games that I've played for less than a month. With EA Access, I could finish them for $5 instead of spending $60 for the privilege of having them collect dust on my shelf.
With other games, the bargain's not so great. EA Access' library, or at least the small amount we know of right now, seems slanted toward multiplayer. Those titles require either Xbox Live or PlayStation Plus to play online and are typically played over several months, if not longer. In those cases, buying the game outright instead of paying for EA Access seems more sensible. Unless you're also playing a lot of single-player games too, which might make EA Access worthwhile because you're getting those titles on the cheap along with a discount for buying the full versions of the multiplayer games.
The point is, the math's a little complicated. The calculations will depend on what the EA Access' library includes and what games you prefer. I'd rather be allowed to choose whether or not to pay for EA Access. It's a little unfair for Sony to preemptively make that decision on behalf of all PS4 owners.
Your Daily Blend of Entertainment News
Staff Writer at CinemaBlend.