South Park: Tenorman's Revenge Hitting Xbox Live Arcade On March 30th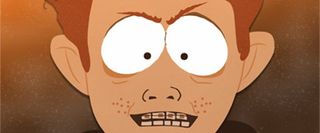 South Park: Tenorman's Revenge's Xbox Live Arcade debut is less than a week away. South Park Digital Studios revealed today that the downloadable platformer will be available for download on March 30th.
In Tenorman's Revenge, Stan and his friends face off against Scott Tenorman and his army of Ginger robots. The boys' journey will take them to locations seen in the show, including Hell, Tynacorp and the Poo-Choo Express. In addition to Ginger Robots, they'll have to fight Manbearpig, "multi-assed minions," and more.
Revenge features both local and multiplayer co-op for four players. Each character has a unique ability to unleash. For example, Kyle can confuse Ginger robots by revealing his red hair and Cartman can "belly barge" through walls. All four characters can also become their super hero alter egos - The Coon, Mysterion, Human Kite, and Toolshed - in certain parts of the game.
The game will cost 800 MS Points ($10) to download. However, there's a way to get the game for free. South Park: The Complete Fifteenth Season will be available on Blu-ray and DVD tomorrow. Each copy coms with a unique code that can be entered at South Park Studio's website. The first 5,000 to enter the code will get a download code for Tenorman's Revenge, a South Park theme, and 48-hour trial for Xbox Live Gold. The next 70,000 entries will get the theme and Xbox Live Gold trial code.
Your Daily Blend of Entertainment News
Staff Writer at CinemaBlend.