Spec Ops: The Line Dev Has New Unreal Engine 4 Game For Xbox One, PS4 At E3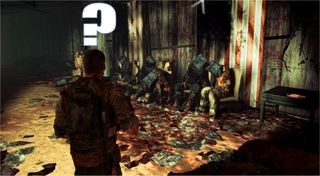 Yager Development, the Berlin based game studio that brought you critically acclaimed titles like Spec Ops: The Line (pictured above), have announced that they will be unveiling a brand new first-person shooter IP at E3 next week.
The news comes courtesy of a tweet that Yager sent out from their official Twitter account, which basically puts all guesswork to bed and lays out the facts like a lioness lays out the skinned hide of an antelope for the cubs.
Sadly, if you check out Grey Box's official website to see if you can spot any hints or info on what the upcoming game might be, you're left with nothing but images of their upcoming GreyGoo, the self-proclaimed revolutionary real-time strategy game. Sorry to say, but no one outside of Korea likes RTS games. It's full blown 'Muricanistic first-person shooters with 'roided up muscles or nothing!
Anyway, Only SP did some actual investigative journalism – shocking, I know, but it does exist from time to time; mostly when the Doritos bags are emptied and the Mountain Dew cases run dry and someone has to go out to pick up some more, resulting in physical investigations taking place since, you know, restocking Dew and Doritos is the only time video game journalists go outside – and what did Nick Calandra uncover? Well, that Yager's managing director on LinkedIn appears to have more than one project under the team's belt.
Not only are they working on two titles but the AAA games are being built on the Unreal Engine 4, as hinted at when Yager licensed the engine last year. One of the games is listed as a free-to-play title, which you can see on the snapshot of Timo Ullmann's LinkedIn page. Check it out below.
So basically, we can expect a true new-generation title... and hopefully not a cross-generational title like Mortal Kombat X. I can't say just how disappointed I am at the fact that Netherrealm's new fighter will be cross-gen. It truly dampens the potential of the game.
Hopefully Yager's title is a full fledged new-gen exclusive. I would love to see how well the Unreal Engine 4 scales for games that aren't holding it back for the denture-using, crutch-reliant seventh generation home consoles.
Nevertheless, we'll have our questions answered and that nagging query about eighth-gen exclusivity regarding Yager's brand new IP (or IPs) once E3 rolls around. There are some very exciting times ahead, folks... well, as far as 2015's line-up goes. Sadly 2014 is looking like the surrogate inseminator for awesomeness that will take place next year.
Your Daily Blend of Entertainment News
Staff Writer at CinemaBlend.