Star Citizen Hits $15 Million In Crowd Funding, With New Ships On The Way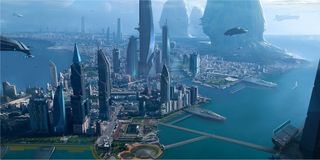 Star Citizen is being hailed as the poster child for PC Master Race gaming. Many gamers want to see Star Citizen as the key representative for how big, how massive, how expansive and how graphically overwhelming PC gaming can be with the right budget and support. Well, Star Citizen is definitely living up to the hype, as it recently hit the $15 million mark in crowd funding.
The game is said to be the biggest, most ambitious space simulator ever created. The scope of the game is almost beyond words but I'll try to muster the strength to put a textual handle on this gargantuan space sim by saying that if you could squeeze all of EVE Online, Homeworld and Wing Commander into a single game that spans an incalculably expansive galaxy, then you would be scratching the surface of Star Citizen.
In the press alert it was noted that...
RSI's independent title will be the first massive budget game made to directly compete with other AAA titles out there, and not only does it have a chance of superseding anything the top tier publishers throw out, it has a chance to shed a whole new light on how high-end AAA games could be made without publishers. In other words, gamers could save AAA gaming from the flailing publishers who have been throwing money in all the wrong directions at many of the wrong ideas.
Hopefully Chris Roberts and the crew will be able to keep a tight rein on the budget and bring home a major hit in 2014. The game is already shaping up to be an amazing experience, as players will battle both in space with their ships and on the ships themselves with player-to-player combat. Yes, that's right, the game doesn't sport ships that are the characters – players will actually be able to play as an actual character who can board, steal, explore and command other ships as well.
The game is ambitious beyond words and the official site wanted everyone to know that the game will be expanding even more, as the $15 million stretch goal has unlocked yet another ship... the escort carrier...
I may not be a huge space-sim geek but this game is definitely on my radar.
At the $17 million mark the team will begin work on the Battlecruiser class, which should be an interesting addition to the already impressive roster of various ships in the game.
You can learn more about Cloud Imperium Games' Star Citizen by paying a kind visit to the official website.
Your Daily Blend of Entertainment News
Staff Writer at CinemaBlend.