Star Wars Battlefront's Episode 7 DLC Will Bring New Game Mode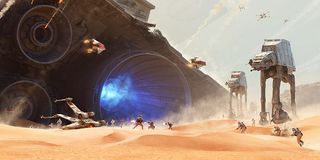 DICE will release the "Battle of Jakku" downloadable content for Star Wars: Battlefront in December. This DLC, which takes players to a location seen in Star Wars: The Force Awakens, also brings a brand-new game mode.
Jakku is a desert world where Rebels and Imperials clashed following the Battle of Endor. There are two new maps set on the planet's surface. Goazan Badalands is the setting for the infantry-only match types: Blast, Drop Zone, Droid Run, Cargo, Hero Hunt, and Heroes vs. Villains. Graveyard of Giants is where you'll play the Supremacy, Walker Assault, and Fighter Squadron modes along with the new Turning Point match type. Here's how DICE describes Graveyard of the Giants in the official announcement:
Turning Point, by the way, is an assault-defend mode for up to 40 players. The Rebels try to capture one of three control points guarded by the Imperials. If they capture one before time runs out, another set of points will be open to assault. Eventually the Rebels have to take over the Empire's base. It sounds similar to Rush mode from the recent Battlefield games. During the battle, Rebels will have access to airspeeders while the Imperials can use AT-ST walkers.
Players who pre-ordered Star Wars: Battlefront will be able to download "Battle of Jakku" on December 1st. Everyone else will get access on December 8th. In both cases, it's a free download. I'm glad that DICE decided not to charge the non-pre-order customers for the DLC, because it's going to ensure that there's a health player count for Jakku matches.
Don't expect many other freebies, though. DICE has a lot of premium content planned for the game. They're going to release four expansions after launch, all of which are included with the $49.99 Season Pass. These expansions will introduce a total of 16 maps, four modes, four heroes/villains and 20 new pieces of equipment.
Battlefront debuted last week worldwide. You can find out more information on the shooter by reading our review.
Image 1 of 3
Your Daily Blend of Entertainment News