5 Classic Characters That Star Wars: Battlefront Needs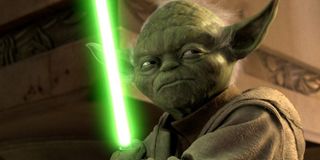 Star Wars: Battlefront will launch with three heroes and three villains from the original film trilogy: Darth Vader, Luke Skywalker, Emperor Palpatine, Princess Leia, Han Solo and Boba Fett. They're great characters but there are so many others that also deserve to be in the game.
DICE has said that they have extensive DLC plans for Battlefront. Hopefully those add-ons introduce these other characters from a galaxy far, far away.
Bossk
If DICE wants to add another bounty hunter to Battlefront, Bossk would be a great pick. Though he only makes a minor cameo in the Star Wars films, he's one of the most feared hunters in the galaxy. He always brings a huge arsenal to each battle, including a grenade launcher, thermal detonators and a flamethrower. I think players would have a lot of fun with all those toys.
Chewbacca
All of Battlefront's current heroes and villains are humans. If the developers want to diversify the roster with an alien, Chewbacca seems like a no-brainer. The legendary Wookiee could be a very effective tank for teams, soaking up damage on the front lines while also dishing out plenty of his own. His raw strength and bowcaster would allow him to be a short- and long-range threat to the other team. Chewbacca was part of the other Battlefront games as well so it seems like we'll get to see him in this game, too.
Rancor
Let's face it: who wouldn't want to be a ten-meter-tall monster in Battlefront? These carnivorous behemoths could be a threat to infantry and vehicles alike. They would make Hero Hunt mode feel like a match of Evolve. The rancor's size and incredible strength would make them unsuitable for certain maps and modes but a Rancor would be a great addition to the cast even in a limited role. Their mere presence would completely change whatever match they're in.
Yoda
One of the few brightspots of the prequel films was that we got to see Yoda kicking ass with a lightsaber. I think a lot of players would love the opportunity to zip around the battlefield like a little whirlwind. His tiny size might make him a bit overpowered, like Oddjob from Goldeneye 64, but I'm sure the developers could find a way to balance that out. The payoff - getting the play one of the coolest characters in all of Star Wars - is worth the effort.
Lando Calrissian
Lando might seem like a redundant character. After all, Battlefront already has a scoundrel character in Han Solo. Still, I think Lando's such an important character in the lore that it would be a shame if he were never used in Battlefront. It wouldn't be hard to make his set of abilities different from Solo's. Though he's skilled with blasters, he's more known for being a cunning strategist. His abilities could revolve around confusing and disrupting enemies. Maybe he could set traps throughout the map or decoys? It would be a harder character to play than say, Solo, whose abilities just revolve around shooting people but a character like this would expand the strategic options for players.
Staff Writer at CinemaBlend.
Your Daily Blend of Entertainment News
Thank you for signing up to CinemaBlend. You will receive a verification email shortly.
There was a problem. Please refresh the page and try again.