Star Wars: Battlefront Trailer Explores Key Location From Episode 7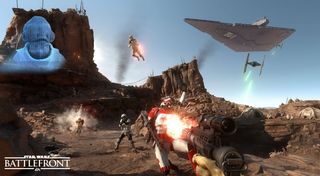 Electronic Arts and DICE have been teasing, promoting, and marketing Star Wars: Battlefront quite a bit leading up to its November 17th release. The latest trailer is a short teaser looking at the map the Battle of Jakku, a tie-in location to Star Wars: Episode VII.
You can see the teaser below, courtesy of the official EA Star Wars YouTube channel.
The teaser is really just that... a teaser.
The highlight is that all of that is in-engine... not in-game. It shows what's possible in the Frostbite 3 technology that DICE has been honing over the years. The game does look very similar to what's depicted in the teaser above, but you won't find that kind of action taking place on-screen. It's a lot more... tame.
The teaser does give us a taste of what the map will feature, though. We do know that AT-ATs will be walking around in the area, and we do get to see that they will be accompanied by AT-STs. Given that this iteration of Star Wars: Battlefront only focuses on the warfare between the Galactic Empire and the Rebellion, it's pretty obvious that those are the only two factions that will be battling across the map. I'm a little shocked that we haven't seen more liberties with the classes, weapons and designs, though?
In Pandemic's version of Star Wars: Battlefront they had classes like Bothian spies and some space-age weaponry that we hadn't seen before, such as the single-shot grenade launcher or the disintegration cannon. So far DICE has kept the weapon loadout exceptionally mundane. Then again they could be doing so with the intent of updating the game later with some really fancy weapons and games. The Star Wars: Battlefront leaked assets revealed that the final weapon count in the game won't be all that impressive, but maybe they'll get creative in their DLC expansion packs.
As for the theme to Jakku... it's interesting. Visually it centers around a giant battle between the Rebels and the Imperial forces – starting off in sky above but eventually finding themselves fighting for every inch on the ground.
There seems to be a lot of backstory to Jakku but given that there isn't an actual campaign mode in Star Wars: Battlefront gamers will likely just have to find that info out from the movie and other tertiary sources. It's a real shame because Star Wars: Battlefront could have helped bridge a lot of what happened between Star Wars: Episode VI and Star Wars: Episode VII.
Even still, a lot of fans are just excited to play a new game in the series, even if it's vastly different from the previous Battlefront titles. You can look for the Battle of Jakku to go live on December 8th for everyone. However, if you pre-order the game you can gain access to the map a week before everyone else.
Staff Writer at CinemaBlend.
Your Daily Blend of Entertainment News
Thank you for signing up to CinemaBlend. You will receive a verification email shortly.
There was a problem. Please refresh the page and try again.