EA's Frostbite 3 Games And Activision's PC Titles Will Support Mantle API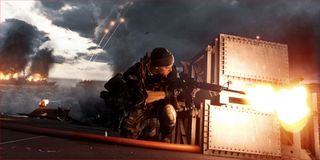 When AMD first announced the Mantle API for the GCN cards during their GPU14 reveal of the R9 290X, everyone was worried that it would be another shade of the VooDoo and Glide scenario where cards not supporting Glide had to use wrappers and eventually support died altogether. Well, there's good news today because Electronic Arts' Frostbite 3 powered games and Activision's PC titles will support AMD's Mantle API as well as Nvidia's NVAPI.
WCCF Tech caught several tweets and notifications from industry developers confirming support for the new graphics API that will help developers "code to the metal" for the GPU, allowing devs to bypass a lot of layered software applications that can muddle the performance of a card, and subsequently, the game it's trying to play.
Technical director Johan Andersson tweeted about the teams use of Nvidia's NVAPI as well as showing a lot of love to AMD's Mantle, saying...
What's more is that all of EA's Frostbite 3 published titles will make use of the new API's to bring out the best performance from the GPUs, including but not limited to Mirror's Edge 2, Dragon Age: Inquisition, Need for Speed: Rivals, Plants Vs Zombies: Garden Warfare, Mass Effect 4 (that isn't Mass Effect 4) and the upcoming Star Wars: Battlefront.
Even Activision's principal technical games director, Wade Brainerd, tweeted about supporting Mantle for Activision's PC titles, mentioning that...
The important thing to take away from this is that this is being worked as a low-level API that ties graphics processing in very closely with the way developers handle development for home consoles. As many of you know, the APUs in the Xbox One and PS4 are provided by AMD, so having Mantle provide direct access to the GPU similar to the way operations are handled on consoles allows for a much closer level of optimization between console ports and PC ports for high-end games. In simple terms: PC and console gamers win.
Combined with the release of the SteamOS, which bypasses Windows to allow developers to also code closer to the metal using Linux, the upcoming generation of gaming is looking like a really great thing for gamers all the way around. In addition to this, Mantle should actually help bolster SteamOS support considering that DirectX isn't supported in Linux but Mantle is. This means that all the performance gain you get out of Mantle will be available in Valve's upcoming OS.
The only thing that remains to be seen is if support for Mantle will last long enough for a strong adoption rate to take place and certify that developers will no longer have to rely on DirectX to get the most out of the graphical designs and features in next-gen games.
Staff Writer at CinemaBlend.
Your Daily Blend of Entertainment News
Thank you for signing up to CinemaBlend. You will receive a verification email shortly.
There was a problem. Please refresh the page and try again.