Star Wars: The Old Republic Early Access Begins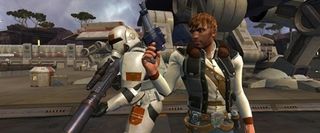 Star Wars: The Old Republic will officially launch on December 20th. However, pre-order customers can start playing as early as today. The MMORPG's early access period began today at 9 AM EST for select players.
Early access will be granted in waves. The earlier you redeemed your pre-order code, the earlier you'll get into the game. While you can still pre-order this week, I imagine it'll only buy you an extra day or two with the game.
There should be a sizeable crowd during this early period. Over two million players registered for the game's beta and over 725,000 played the beta during Thanksgiving weekend. Not all of these players have necessarily pre-ordered but there's clearly a lot of pre-launch interest in the game.
The Old Republic is set thousands of years before the films. Players take sides in the war between the Sith Empire and Galactic Republic. They can be a Jedi Knight, a smuggler, a Sith sorceror, and more.
"The Old Republic blends the best of breed features from the MMO space and adds significant innovations, resulting in an emotionally engaging online experience where you have a clear, meaningful purpose," said Dr. Ray Muzyka, General Manager of EA's BioWare label and Co-Founder of BioWare. "Our Beta testers have told us we have truly captured the magic of the Star Wars universe and changed what they expect from an MMO. The Old Republic team is incredibly excited, honored and humbled to provide early access to our pre-order customers today. This is just the beginning of a grand adventure together!"
You can purchase SW:TOR as a $59.99 standard edition or a $79.99 digital deluxe edition. The latter is an exclusive to EA's store Origin. The Collector's Edition is no longer listed on the site so presumably they're out of stock. Maybe you'll still be able to find it at other retailers, though. Each edition of the game comes with 30 days of access to the game. After that month, you'll have to pay for a subscription to keep playing.
Staff Writer at CinemaBlend.
Your Daily Blend of Entertainment News
Thank you for signing up to CinemaBlend. You will receive a verification email shortly.
There was a problem. Please refresh the page and try again.