Star Wars: Old Republic's Future Includes Guild Capital Ships, Custom UIs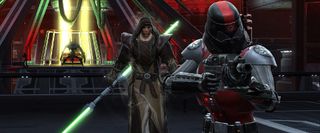 Today BioWare detailed their post-launch plans for Star Wars: The Old Republic. Players can expect new players-versus-player and player-versus-environment content, as well as a number of other features.
"Guilds are important to the long term health of any MMORPG. We have a huge list of guild centric features," said game director James Ohlen. "This will be an ongoing effort that will probably never end. Guild banks are the first thing we'll be delivering in our plans for increased guild functionality. Eventually we even want to deliver on the promise of the long hinted at 'Guild Capital Ships.'"
Many MMORPG players like to tweak their user interface to either make the game more convenient or boost their performance. Ohlen says they plan to give users more control over their UI in the future. He adds that it's a "big priority" for the development team.
SW:TOR will, at launch, let players hop into their own starship and complete missions. BioWare plans to add more of these missions. What's more, they've got a special project that will extend this space gameplay significantly.
Another launch feature is the Legacy System, a set of rewards that carry over from one of your characters to another. So far the Legacy system merely lets you select a surname for multiple characters. However, in time the Legacy levels you accumulate will earn you powers, items, and other benefits.
"We have an entire team of developers working on future content. Right now we are focused on nothing else but Star Wars: The Old Republic, so expect new and cool things," said Ohlen.
Old Republic early access began yesterday. Pre-order customers will be invited to start playing this week in the order that they reserved their copy of the game.
Staff Writer at CinemaBlend.
Your Daily Blend of Entertainment News
Thank you for signing up to CinemaBlend. You will receive a verification email shortly.
There was a problem. Please refresh the page and try again.