Star Wars: The Old Republic Trailer Pits Sith Inquisitor Against Trooper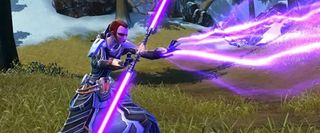 BioWare has released another video matching up two playable classes from Star Wars: The Old Republic. This time around the Sith Inquisitor and Trooper are squaring off in battle.
The Sith Inquisitor is a master of the Dark Side. She wields Force lightning and various other offensive powers If she need to get up close and personal, she uses stealth.
The Trooper relies on an arsenal of equipment rather than the Force. He's outfitted in heavy armor and wields a variety of energy weapons. He can rain death down on opponents from afar, so his principle challenge with the Inquisitor is to keep her at a distance.
The Old Republic will launch on December 20th. In the coming weeks, BioWare will be hosting a large-scale beta weekend so a huge chunk of prospective players can try out the game.
Staff Writer at CinemaBlend.
Your Daily Blend of Entertainment News
Thank you for signing up to CinemaBlend. You will receive a verification email shortly.
There was a problem. Please refresh the page and try again.