StarCraft: Ghost Isn't Dead?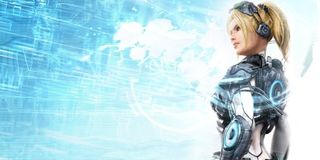 Pretty much every StarCraft fan has given up on spin-off StarCraft: Ghost ever being released. However, Blizzard hasn't given up. Blizzard Entertainment designer Matthew Burger has caused quite a stir today by suggesting that Ghost could still be released.
"It's on hold. It has never been cancelled," Burger told OPM UK. When asked if the game might be finished, he said "maybe."
StarCraft: Ghost is a third-person shooter starring Nova, a special operative. She uses a combination of stealth and firepower to complete her missions. She wields a wide range of weaponry, along with psionic powers. The game also sported a class-based, team multiplayer with multiple modes.
Ghost's development was long and troubled. It was first announced in 2002 and was going to be developed by Call of Duty: Black Ops Declassified studio Nihilistic Software. Following two years of delays, the project was handed off to Swingin' Ape Studios. However, they didn't fare any better than Nihilistic and Blizzard indefinitely postponed the game in 2006.
Blizzard never completely forgot about Ghost, though. They went ahead with StarCraft Ghost: Nova, a novel that chronicled the early years of Nova's life. Nova has also appeared in StarCraft 2. The character exists in the series lore so there's room for a game starring her.
The company's too busy to release Ghost anytime in the near future, though. They still have to make SC2's second expansion Legacy of the Void. Other current projects include Blizzard All-Stars, Hearthstone: Heroes of Warcraft, and Project Titan.
Your Daily Blend of Entertainment News
Staff Writer at CinemaBlend.
Your Daily Blend of Entertainment News
Thank you for signing up to CinemaBlend. You will receive a verification email shortly.
There was a problem. Please refresh the page and try again.