State Of Decay Breakdown DLC Gets Release Date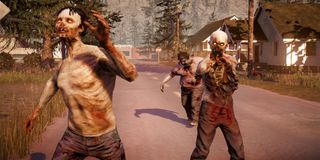 Undead Labs has announced the release date for State of Decay's first DLC pack Breakdown. Breakdown will introduce a new sandbox mode for both the PC and Xbox 360 versions of the open-world zombie game later this month.
Breakdown, like the base game, challenges players to survive in the zombie apocalypse. Players will create a home base and then do whatever it takes to keep it running. They'll make raids into the zombie-infested countryside to get supplies, thin zombie hordes getting too close to home, and help other survivors they encounter throughout the world. Supplies are limited so players have to constantly seek out new places to scavenge.
The DLC strips away the story missions so that players can simply focus on survival. They can escape Trumbull Valley before its resources are completely exhausted, though. A broken-down RV on the edge of town can be repaired to working condition if you have the necessary fuel and tools. The survivors will then have to scramble to get into the RV before they're overrun by zombie hordes. Not everyone will fit in the RV, though.
"You'll have to leave a lot behind, including some close friends," said Undead. "But at least you'll have hope. That's more than can be said for those who remain in the valley."
The RV will then head to a duplicate version of Trumbull Valley with replenished supplies. This new world might have the same map but is actually quite different. Supplies and vehicles are less numerous. Zombies will be faster and harder to kill. Special infected will show up more often. Survivors, meanwhile, are injured more easily. The difficulty will be amped up every time that the player travels to a new valley. Players' accomplishments in this survival marathon will be tracked on leaderboards, with the higher difficulty levels awarding more points.
"There are some natural limits on how dense we can actually make these zombie hordes, so it eventually caps out," the developers said in a Q&A with fans. "But we've made the game so hard at this point that we can't even survive. Now we're looking to you guys to show us how hard this game actually is. We think we've made it ridiculous. But we reserve the right to dive back in and make it even harder at a later point if you get in there and start steamrolling zombies like they're made out of butter."
Breakdown will hit both Xbox Live Arcade and Steam on Friday, November 29th for $6.99. The DLC will be accompanied by Title Update 4, which provides several bug fixes as well as a new loot distribution system. The PC version of the game will receive remappable keybinds a few days prior to Breakdown's release.
Staff Writer at CinemaBlend.