Stereoscopic 3D Vs. Anaglyph 3D Vs. 2D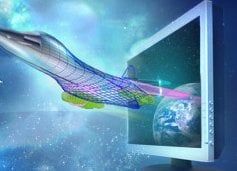 At the upcoming GDC event in San Francisco, iZ3D will be showing off their proprietary S-3D technology and demoing comparisons between their new stereoscopic 3D, anaglyphic 3D and the legendary dimensional presentation of 2D. And just so you know, the anaglyph 3D comparison is actually just your typical comparison to the 3D that requires those horrendous 3D-glasses.
"The easiest way to explain the visual difference an iZ3D monitor provides is to play a game on a 2D monitor where you experience only a two dimensional game. On an iZ3D monitor, the graphics that were originally created in a 3D modeling program come to life, you duck items flying at you and experience movement such as flying or falling," commented David Chechelashvili, iZ3D VP, marketing.
Sounds intriguing, but I'm quite positive it's one of those things you'll actually have to see to appreciate. Otherwise, it just seems like a lot of expensive tech no one will see a need to use in today's gaming generation.
According to the press release, The iZ3D solution is compatible with Microsoft Windows XP and Microsoft Vista operating systems. Games written for DirectX 8, 9, (soon 10) require a graphics card with dual video outputs (VGA and DVI or HDMI). Most games written in the last six years are designed for 3D, but lacked, a way of displaying them properly."
The solution iZ3D offers for stereoscopic 3D experiences is available both in monitor format and 3D polarized glasses. You can check out a full list of iZ3D stereoscopic features below:
- 22-inch wide screen 3D/2D keyboard switchable LCD monitor
- 3 pairs of passive polarized 3D glasses (5 other models are available online)
- iZ3D Stereoscopic 3D and Anaglyph 3D software drivers (other drivers are available online)
- Power and video cables
- Quick-start guide
- Free membership into iZ3D's upcoming 3D Owner's Lounge
iZ3D Monitor features:
- 22-inch wide screen stacked dual-panel LCD display
- 1680 x 1050 resolution
- Up to 170-degree 3D viewing angle
- 5ms response time
- 700:1 contrast ratio
- 16.7-million colors
- 300 nits
- Dual Inputs
All this high-techery sounds fascinatingly expensive. However, the cost of the monitor for a stereoscopic 3D experience is only $399. You can also check it out at Fry's and Micro Center stores. For more info on the iZ3D tech, be sure to visit the Official Website. For more gaming news, info and updates, be sure to stay tuned in with Blend Games.
Your Daily Blend of Entertainment News
Staff Writer at CinemaBlend.