Stormrise Units Revealed And Detailed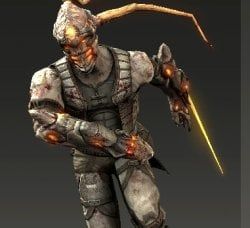 From the people who brought you Medieval II: Total War, comes the next step in console RTS gaming, Stormrise. It's a fantastic looking game by Creative Assembly and some new info on the operable units have just come in for your reading pleasure.
The game features two warring groups: The Sai, a tribal group who has evolved with the war-torn land, and the Echelon, a technologically superior race who endure using (yep, you guessed it) technology.
You can check out the unit details below, or visit the Official Stormrise Website for more general information about this console RTS. You can look for it to hit retail shelves come March, for the Xbox 360 and the PlayStation 3.
Stormrise Unit Info:
Echelon
Enforcers
SPECIAL ABILITIES
• Grenades: The Enforcers can launch a barrage of explosive grenades at their enemies. • Riot Shield Up: The Enforcers activate their energy Riot Shields and hunker down behind them for increased protection.
Infiltrators
SPECIAL ABILITIES
• Thermal Vision: The Infiltrator is able to detect and target any hidden and cloaked units within view.
Prowlers
SPECIAL ABILITIES
• Search the Skies AA Mode: The Prowler transforms into a stable gun platform to shoot down airborne targets.
Kai
Ranger
SPECIAL ABILITIES
• Sai Anti Air Rockets: The Rangers can fire Sai energy charges at airborne units from their unusual weapons.
• Commando Rush: The Rangers call forth their natural aggression and rush into combat completely ignoring the dangers around them but increasing their damage.
Spectres
SPECIAL ABILITIES
• Mind Control: The powerful mind of the Spectre can temporarily dominate any enemy except for commanders.
• Cloak: The Spectre can warp light around itself to hide from enemy sight. The shimmering can be detected from up close though.
• Rapid Slice: The Spectre goes into a slashing frenzy, destroying any infantry within its reach.
Scorpions
SPECIAL ABILITIES
• Sting: A ceramic shell-filled with Brood acid charged with Sai energy. On impact it does minimal damage, but greatly reduces the armour where the shell hit.
Staff Writer at CinemaBlend.
Your Daily Blend of Entertainment News
Thank you for signing up to CinemaBlend. You will receive a verification email shortly.
There was a problem. Please refresh the page and try again.