Street Fighter X Tekken Live-Action Trailer Isn't What You'd Expect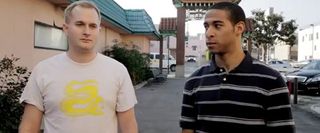 Today Capcom unveiled a live-action trailer for cross-over fighting game Street Fighter X Tekken. No, it's not just shaky cam footage of two guys dressed up like Ryu and Kazuya.
Capcom enlisted Thousand Pounds Action Company for the video. They're a group specializing in films with "an Asian martial arts sensibility." The video is sort of a cross between a comedy sketch and a martial arts tournament. It closes with a big parking lot brawl.
At the end of the video, the Thousand Pounds team mentions they're making another video. It'll be released around the same time as Street Fighter X Tekken. Capcom will producing the vid.
SFxT will launch in North America on March 6th and in Europe on the 9th.
Staff Writer at CinemaBlend.
Your Daily Blend of Entertainment News
Thank you for signing up to CinemaBlend. You will receive a verification email shortly.
There was a problem. Please refresh the page and try again.