Sunset Overdrive Confirmed 900p, 30fps For Xbox One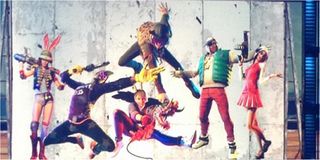 Due out on October 28th exclusively for the Xbox One, Sunset Overdrive is a high-octane third-person shooter platformer that aims to give Insomniac Games a new breath of fresh air in the eighth generation of gaming. However, despite how the game looks and despite the fact that it is an exclusive for the Xbox One, Insomniac's eighth-gen debut won't be running at native 1080p or 60 frames per second.
One of the common threads about the graphics debate on the Xbox One is that the more "realistic" art-styles and "gritty" representations associated with a lot of games have prevented the system from hitting the full HD, native resolution of 1920 x 1080p.
GamingBolt managed to get in word with Sunset Overdrive's lead writer John Paquette and brand development director Ryan Schneider. What did they find out? That the game only runs at 1600 x 900p and 30fps on the Xbox One.
Why the team decide on these specifications for Microsoft's console? Well, Schneider explains that...
Even with a game that edges closer to a Wii U art-style, there is still some troubles hitting 1080p and 60fps on the Xbox One.
Even though some gamers state that graphics don't matter and that resolution and frame-rate aren't entirely important, more than 75% of gamers still believe that graphics play an important enough role in their purchasing decision of said game.
In this case, will 900p and 30fps be enough to win gamers over this fall when Sunset Overdrive launches on the Xbox One? It will be competing with Bayonetta 2, whose resolution hasn't been confirmed but we do know that the game will be running at a locked 60fps on the Wii U.
Even before Bayonetta, gamers looking for a large scale game with plenty of enemies to take on and tons of non-stop action there will also be Hyrule Warriors, meaning that Sunset Overdrive will definitely need bring something diverse to the table to keep game-starved players from looking elsewhere for their fill of fast-paced, over-the-top action.
This could be especially damaging given that the Wii U still has a near 2 million install-base lead over the Xbox One, as noted in the Statista report, and this is expected to stay in effect through May and June due to the sales-spur from Mario Kart 8.
Not being able to hit 1080p and 60fps with Sunset Overdrive could be the deciding factor for some gamers to either get an Xbox One or go with the cheaper and higher frame-rates of Wii U titles due out in a few months.
Sunset Overdrive is set for release on October 28th, exclusively for the Xbox One. For more information on the game feel free to pay a visit to the game's official website (opens in new tab).
Staff Writer at CinemaBlend.
Your Daily Blend of Entertainment News
Thank you for signing up to CinemaBlend. You will receive a verification email shortly.
There was a problem. Please refresh the page and try again.