Super Mario 64 HD Gets The Attention Of Nintendo's Lawyers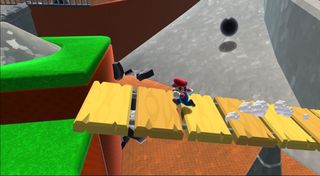 If you didn't manage to get your hands on the Super Mario 64 HD fan project then you're going to be in a bit of a bad way. Nintendo has issued a DMCA takedown notice on the Unity 3D-powered project and now the site is just one giant legal notice.
All Games Beta posted both the takedown notice for Super Mario 64 HD, which recently went public, and the response from the creator Roystan Ross.
Nintendo of America attorney Alicia Bell issued the following statements in the DMCA takedown notice, saying...
In compliance with the request, Ross did take down the website. Now when you head on over to the Mario64-erik.u85.net address you'll be greeted with nothing more than the takedown letter and the response from Ross.
So what did Ross have to say exactly in response to the letter and the takedown of the Unity engine remake? Well, he stated...
It's a real shame that this happened yet completely unsurprising. Anyone who knows Nintendo knows that they're extremely protective of their licensed property for use in any capacity.
Most gamers familiar with fan-remakes also know that when doing these projects there's always the inherent risk that the project could be hit with a takedown notice by a legal team. We've seen this happen countless of times in the past, especially with remakes based on Square Enix properties such as Chrono Trigger and more recently with Final Fantasy Type-0. Warner Bros also had a Elder Scrolls total conversion mod of The Lord of the Rings axed.
One of the rules most gamers always try to impart about modders and game creators working on fan projects is that they should keep the whole thing under wraps until they're ready to release the full thing to the public, otherwise they risk attracting the attention of the big wigs and having the whole thing shut down, similar to what just happened to Super Mario 64 HD.
For those of you wondering just how much of Super Mario 64 HD is actually Nintendo's, Ross explains over on his Wordpress blog exactly what it is that he used from the Nintendo properties, writing...
Even still, Ross used just one too many items recognizable from Nintendo's properties to forfeit the hosting of the Super Mario 64 HD project anymore.
This will probably continue to scare off other budding developers from heading in the same route. One up-and-coming dev decided to play it smart with his Resident Evil 2 remake, opting not to provide any download links or anyway to access his fan-made game. That's one way of avoiding the stiff arm of the law.
Your Daily Blend of Entertainment News
Staff Writer at CinemaBlend.