Table Top Racing Hits Vita With New Launch Trailer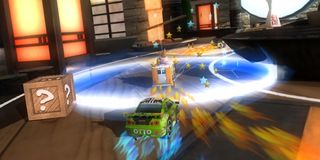 Playrise Digital is shrinking all of the crazy action of a kart racer into a itty-bitty package with today's launch of Table Top Racing for the PlayStation Vita. For those of you who have always wanted to boost a toy car across an obstacle course set up on a picnic table, your dreams are finally about to come true.
Originally released on mobile platforms, Playrise Digital's Table Top Racing is set to hit the PlayStation Network today for $7.99 (Though CEO Nick Burcombe explained that there will be a discount for PlayStation Plus subscribers). Don't worry, European friends, because these tiny cars and zany courses will be speeding your way in just 24 hours.
If you've ever seen the movie Honey, I Shrunk the Kids and thought it could use a healthy dose of Mario Kart thrown into the mix, then Table Top Racing is for you, giving players access to 17 highly customizable vehicles, eight tracks and dozens of events to careen across, all at a silky-smooth 60 frames per second.
Playrise is calling the Vita version of the game the "definitive version," with enhanced graphics, double the polygon count of the original and superior handling thanks to all of those buttons and thumb sticks. This new version of the game will also have ad-hoc and online multiplayer, so that's pretty rad, too.
"Table Top Racing is a AAA micro combat racer that pits all manner of custom-made, miniaturized cars against one another," reads a statement from the developer. "Welcome to a world of table top race tracks, over-sized obstacles and glorious power-ups."
Packed into the Vita package will be a full campaign mode, as well as quick play options and drift modes to tackle. Playrise CEO Nick Burcombe visited the PlayStation Blog this morning to offer up a few pointers for new players.
"First and foremost, make sure you upgrade your car as you progress—otherwise you won't keep up with the competition," he explained. "Things get even more interesting when you start experimenting with Weapon-Wheels. In conjunction with power-ups, the wheel weapons will give you a real strategic advantage, so think carefully about your selection before each race."
Nick Burcombe continued, saying that the difficulty will ramp up steadily as you hit the higher level championships, and that each track's unique challenges may suddenly appear more doable.
"Once you start exploring Special Events and applying what you've learnt about the Weapon-Wheel, you'll soon discover those three start challenges that seem impossible are achievable with a bit of lateral thinking," he added.
Look for Table Top Racing today on the PlayStation Vita, once the weekly PSN update goes live.
Staff Writer for CinemaBlend.
Your Daily Blend of Entertainment News
Thank you for signing up to CinemaBlend. You will receive a verification email shortly.
There was a problem. Please refresh the page and try again.