Team ICO's "Project Trico" Revealed In Trailer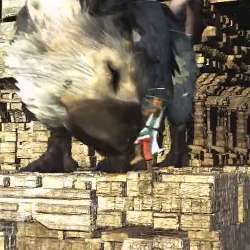 Stupid gaming news never ends. I'm about to go to bed and bam, the first video footage for Team ICO's long-awaited follow-up to ICO and Shadow of Colossus lands in my inbox.
The trailer for the so-called Trico was obtained by PlayStation LifeStyle. They note that this is early footage so the graphics still need to be spruced up a bit. Also, the characters and scenarios might change. For now, though, it seems Trico is a touching story about a boy and his enormous cat/bird companion.
Yeah, you really need to have played Shadow of Colossus or ICO for this video to rev your engine at all. All that's really known about the project is that it's similar to Team ICO's previous two games and it's a PS3 exclusive. Guess we'll have to wait 'til E3 to get more than that.
Staff Writer at CinemaBlend.
Your Daily Blend of Entertainment News
Thank you for signing up to CinemaBlend. You will receive a verification email shortly.
There was a problem. Please refresh the page and try again.