Telltale's Game of Thrones: Episode 1 Is Free For A Limited Time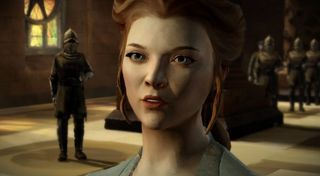 For a limited time, gamers will be able to get their hands on Telltale Games' Game of Thrones: Episode 1 for mobile devices... for free. That's right, you won't have to pay a single coin for it.
If you want the free app, you can head on over to the Amazon store page (opens in new tab) and pick up the first Game of Thrones' episode for the low, low price of free.
Here's how Amazon describes the deal:
I'm sure there are a lot of people revving up their fists, saying "aw shucks!," because they hoped that this was a free episode for the Xbox, PlayStation or PC.
Nevertheless, a free anything is still better than a premium something. Anyone who was curious about Game of Thrones from Telltale Games could give the game a try before deciding if the rest of the series is worth the price of admission. What do you have to lose?
The first episode is just a taste. Things really get hot and heavy (but not to the same levels as the television show on HBO) when the second episode kicks into gear. There are plenty of characters from the TV show featured in the game, ranging from the Starks to the Lannisters and a few other characters in between.
Telltale Games has done a fine job of interweaving all of the characters' stories together while building up a unique tale that works as a companion piece to the popular Game of Thrones show that has so many people riled up every week.
Telltale managed to land a licensing deal to produce games around the series following the huge success they encountered with the The Walking Dead – especially the unforgettable first season with Lee Everett. Plus, they took on the dark and seedy criminal underworld of fairy tales with The Wolf Among Us. Both series have gone on to win multiple awards and put Telltale in a unique niche. Their games are a mix of standard point-and-click adventuring and branching narratives.
Even if you're only a tiny-bit curious about The Game of Thrones, you can get your hands on the very first episode for free on mobile devices. Just head over to the Amazon app store (opens in new tab) for a limited time.
Staff Writer at CinemaBlend.
Your Daily Blend of Entertainment News
Thank you for signing up to CinemaBlend. You will receive a verification email shortly.
There was a problem. Please refresh the page and try again.