Titanfall Not Coming To PS4 At All, Will Be Exclusive To Xbox One, Xbox 360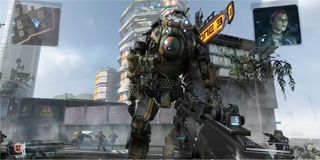 If you were hoping that Respawn Entertainment would pump out the sub-par version of Titanfall for the Xbox 360 and Xbox 720p at a paltry 720p and 60fps and then move on to bigger and better digs by releasing the PlayStation 4 version at 1080p and 60 furious frames per second, think again. Microsoft paid EA to keep the game off the PlayStation 4... for good.
IGN just put up an article following EA's earnings report, making it blatantly known that Respawn Entertainment won't be doing any more multi-platform work on Titanfall beyond Xbox and PC platforms.
So if you were hoping the definitive version of Titanfall would arrive on the PS4 and the Wii U at 1080p 60fps, with multi-threaded shadow casting, ambient occlusion, detailed particle scatter and DirectX 11 equivalent features – or in simple terms, a whole lot of stuff the Xbox One won't be able to handle that the Wii U can – you'll have to dream elsewhere because EA only has nightmares to sell.
According to EA's chief financial officer, Blake Jorgensen, the money-managing man had this to say about Titanfall on anything other than an Xbox or PC branded platform...
Respawn Entertainment's co-founder, Vince Zampella, took to Twitter to express his disappointment with having Titanfall relegated to the weakest next-gen console for the eighth generation of gaming, practically motioning to fans to hold off on buying the first game and waiting for the proverbial Titanfall 2: Giantdrop or Titanfall 3: Monolith Plunge...
The sad face at the end really nails it home that Zampella and crew are probably disappointed they won't be able to ship Titanfall on the bigger, badder next-gen consoles next spring.
However, on the upside Zampella does make it known that exclusivity is only for the first game and that any sequels will be sure to become multi-platform, just like what happened with Mass Effect ending up on the PS3 after the first game was exclusive to the Xbox 360.
Of course, though, fans shouldn't be too disappointed at the news; this is exciting times. Just in the same way that PC gamers get to wait and let Xbox 360 and PS3 gamers beta-test GTA V and GTA Online until the definitive version launches on PC at a later date, PS4 and Wii U gamers get to hold-off and wait as Xbox One gamers get to beta-test the first Titanfall.
Once Respawn Entertainment gets Titanfall up and running on the Xbox 360 and Xbox One at 720p 60fps (across both consoles), the team will probably feel comfortable enough moving over to stronger hardware and potentially optimizing the sequels to run at 1080p and 60fps on the Wii U and PS4. So it's all good.
Titanfall is set for release on the Xbox 360, Xbox One and PC next March.
Staff Writer at CinemaBlend.
Your Daily Blend of Entertainment News
Thank you for signing up to CinemaBlend. You will receive a verification email shortly.
There was a problem. Please refresh the page and try again.