Titanfall Xbox One Console Bundle Includes Free Digital Copy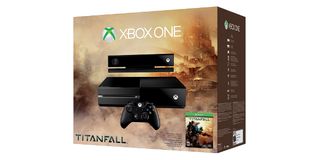 Rumors of a Titanfall Xbox One bundle have turned out to be true. Microsoft announced today that you can buy the console and game together starting next month.
"Xbox One Titanfall Edition" includes the Xbox One, a digital copy of Titanfall, a wireless controller, and chat headset. Microsoft also threw in one month of Xbox Live Gold membership so you can have access to Titanfall's multiplayer - which is a good thing, because the game's multiplayer-only.
The Xbox One in the bundle is the standard black model. The initial rumor was that the console would have a white and orange paint job, to match the custom Titanfall controller. The controller in the bundle is also black.
Microsoft priced the bundle at $499.99. That's the standard price of the console so the digital copy of Titanfall is essentially free. You'll have to wait until launch day to start downloading the file but hey, free is free. It would've been nice if the console and controller had custom art but there's no denying that a bonus copy of Titanfall is a better incentive.
Console/games packages are generally reserved for titles perceived as system-sellers. With this bundle, Microsoft is showing that they feel Titanfall is a killer app that can convince gamers to buy the XB1. The sentiment was already apparent from the controller and pre-Titanfall system update, though. They've got an anticipated game that won't be released on their main rival, the PS4, and they're going to take full advantage of it in selling their hardware.
They're not wrong to be confident in Titanfall. Though it's a brand-new IP, the game is riding a wave of positive buzz following an open beta on Xbox One and PC. It's estimated that over two million players tried out the game during the test. There was no NDA so everyone who didn't play the beta had a chance to watch hours and hours of gameplay footage from YouTube, Twitch and other sources. Not everyone liked what they saw (or played) but a lot of people did.
The console bundle will launch alongside Titanfall on March 11th. You can pre-order it now from the Microsoft Store (opens in new tab). There's only a limited supply though and they're sure to run out quickly.
Image 1 of 4
Staff Writer at CinemaBlend.