Tony Hawk's Pro Skater HD Gets Revert Update For PS3 and 360, PC Coming Soon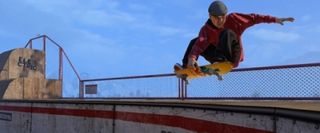 Most of us can only dream of hitting the skate park with the skill and finesse of a four-wheeled legend like Tony Hawk. Thanks to games like the recent Tony Hawks' Pro Skater HD, however, at least we can pretend to be that damn good in the safe confines of a digital environment. And if you've been waiting for some extra content to bring you back into the game, you'll be happy to know that the Revert Pack is now officially available for both the PlayStation 3 and Xbox 360.
Joystiq was the first to notice the new content for Hawk had gone live, saying that while the PS3 and 360 versions are ready to roll (see what I did there?), the PC expansion won't be hitting Steam for another couple of days.
For starters, everyone who owns the game will be receiving a free revert update, adding the combo move into the player's arsenal for all of the game's levels, not just the newest levels being added as DLC (as was the original plan). The revert move allows players to link their various tricks, meaning mastery of the move will allow for bigger combos than ever before.
Finally, if you're willing to spend a little extra green for some new levels, the Los Angeles, Canada and Airport courses from Tony Hawk's Pro Skater 3 are now available in the "Revert Pack," a bit of DLC that will set you back $4.99 (400 MSP).
You can update your game with the revert move and download the new DLC now on your home console, or pick it up very soon when it launches for PC.
Staff Writer for CinemaBlend.
Your Daily Blend of Entertainment News
Thank you for signing up to CinemaBlend. You will receive a verification email shortly.
There was a problem. Please refresh the page and try again.